Photography Portfolio Books
Each one of our photography portfolio books is handcrafted of the highest quality. Our focus is working with institutions, governments, universities, and individuals who want a personalized touch. We can customize any book to suit your needs for your company or organization or as a long last memory to family members.
Types of work we have created can be seen right here in our studio or on our website in the portfolio section. Some of the universities we have worked with are Duke University, the University of Virginia, Richmond, the University of Miami, Florida State University, Harvard and more!
When it comes to creating custom fine arts books for individuals, like a family member, or yourself, upon your request we can design one with your photos, or you can hire us for a photoshoot to then design and publish one for you.
Take a look at our videos to get a better idea of what we can do together.
Hardcover Photo Albums
We design each book according to your requests. Hardcover photo albums are more durable than our flexible softcovers.
Softcover Photo Albums
Thinner and less bulky than hardcover books. Softcover photo albums are fantastic when it comes to saving space and having flexibility.
Personalized Photo Books
We offer personalized options for every book from embossing, debossing, stamping and more!
How long does book art binding take?
Depending on the project and custom order, some books may take 5 to 10 days or longer. This is also dependent on the quantity ordered and materials used for the project.
After receiving all the information, images, and documentation from the client, we then have to determine the type of materials used for book art binding. As each book is handcrafted, we must select the materials for the number of images in a single book to see if there will be hand stitching, gold plating, fabrics, wood, the type of bindings, embossing, etc.
PORTFOLIO
Book Art Binding Process
We take pride in our work and want to explain the process of what it takes to create and design each book of art. The bookbinding process does take time to print each and every pages image and text. Each design and book is customized for the university, company, or person placing an order using their specific color scheme of the fabrics, lacing, fonts, logos, embossed pages, any specific quotes or saying and stitching.
What pictures can I use for an art book?
Each art book is created according to the client's request. We can create a fully custom book with personal images. Once we receive all the photos, details, information, timelines, etc. we can then work on designing the book page by page.
Another option is to design an art book with photographs we take. Take a look at our university collection in the portfolio section of the website. You can see how each university has photos with memorable locations and buildings.
We can also design and publish a custom book with your photos and ours combined.
CONTACT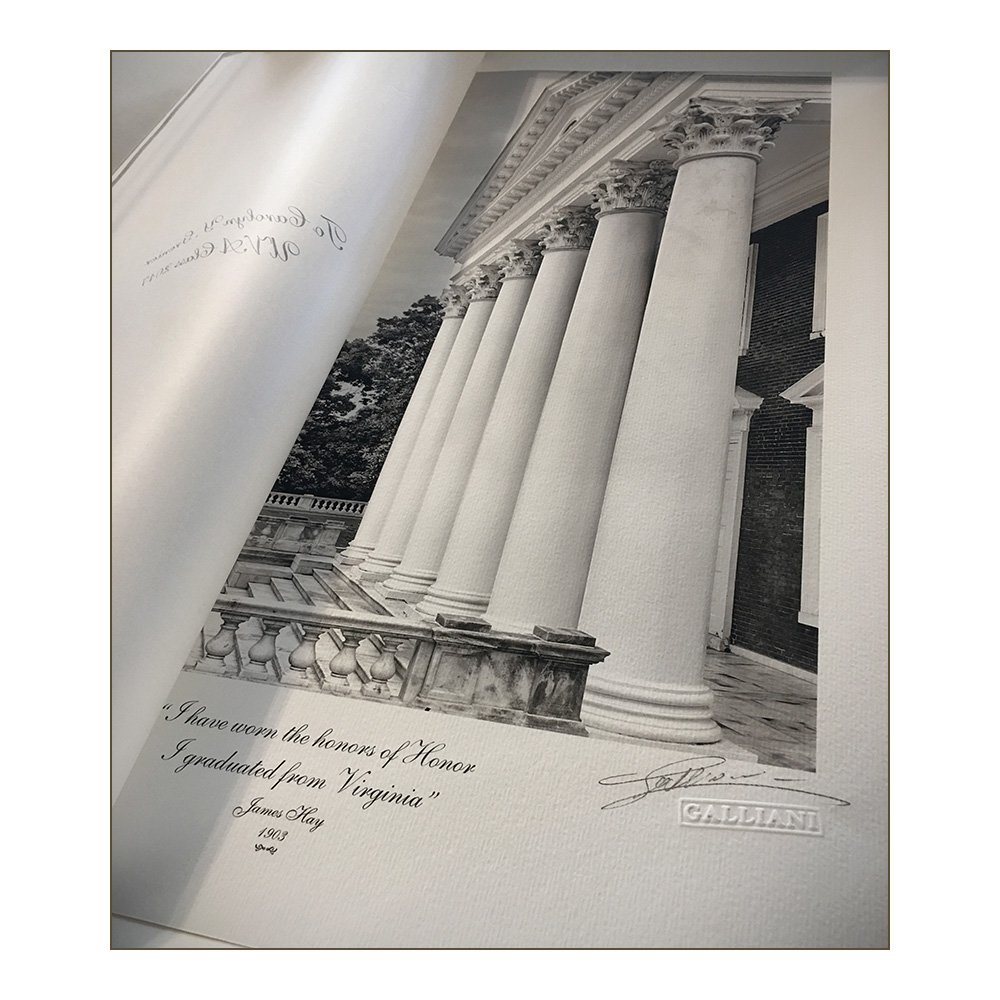 How to place a fine arts book order?
Every order place is customized for all clients. To place an order or request for information please fill out our contact form or contact us directly. The more details and information we have upfront is the faster we can get to work on the design, printing, and publishing.
CONTACT
Who are our custom art books for?
Our books are not for the general public. Orders that are placed are meant to be used as gifts place by:
Universities

Institutions

Governments

Corporations

Individuals
What you will see in our artwork is that these large books are outstanding gifts to show company products, presented as gifts for donors, government officials, retirees, company promotions, or certain memories families want to pass down to their children.
CONTACT